280px
Name
Summoning Magic
Kanji
召喚魔法
Romaji
Shōkan mahō
◄ Information ►
Type
Caster Magic
User
Summoning Magic (召喚魔法, Shōkan mahō) is a Caster Magic that enables the user to create objects and organism from thin air.
Description
Edit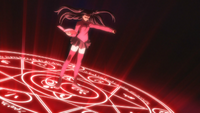 Using part of one's body (hair, blood, fingernails, etc.) the user has the power to create objects or organisms either for battle or tracking from a way different location. Although the spell can be very beneficial in battle, it also drain a lot of magical power from the user. (The bigger the organism the larger magical power it drains from the body. Summoning Magic is a common conjury that is practiced around the globe.
Ad blocker interference detected!
Wikia is a free-to-use site that makes money from advertising. We have a modified experience for viewers using ad blockers

Wikia is not accessible if you've made further modifications. Remove the custom ad blocker rule(s) and the page will load as expected.